A Conversation With Reps. Joe Deshotel, Allan Ritter and James White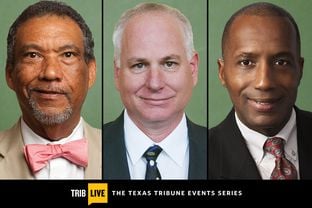 Join us for a light lunch and a discussion about the 83rd legislative session with state Reps. Joe Deshotel, Allan Ritter and James White at Lamar University in Beaumont.
Deshotel, D-Beaumont, is an attorney and businessman who was first elected to represent House District 22 in 1999. The Beaumont native chairs the Land and Resource Management Committee and serves on the Public Education and Redistricting committees. He is an alumnus of and previously served as vice president for administration and legal counsel for Lamar University.
Ritter, R-Nederland, has represented House District 21 since 1999. He serves as the chairman of the Natural Resources Committee and sits on the Ways and Means Committee. He is president of Ritter Lumber Company.
White, R-Woodville, was first elected in 2010 to represent House District 12 and was then re-elected in 2012 to represent HD-19. White, vice chairman of the Corrections Committee and a member of the Agriculture and Livestock Committee, is a veteran and maintains a small cattle ranch.
ABOUT THIS EVENT
This event will be held in the University Reception Center on the eighth floor of the Mary and John Gray Library (map). It is free and open to the public, and a complimentary lunch will be served.
Our Conversation Series features in-depth discussions with prominent elected officials and newsmakers moderated by Evan Smith, CEO and editor-in-chief, and other expert journalists from The Texas Tribune. We also invite you to subscribe to The Brief, our free daily news summary.
This series of conversations is generously sponsored by Blue Cross Blue Shield of Texas, and this event is co-presented with Lamar University and supported by Texas Mutual Insurance, AT&T, BP, Christus Health and Texas A&M University.

Disclosure: though donors and corporate sponsors underwrite our events, they play no role in determining the content, panelists or line of questioning.