Health Care and the Millennials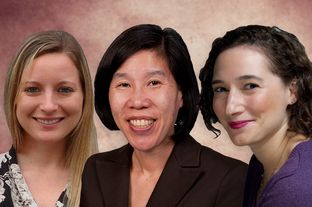 The Texas Tribune and Blue Cross Blue Shield of Texas are pleased to present a panel discussion on the challenges and opportunities in health care for the millennial generation with Erin Hemlin, national organizing and programs manager with Young Invincibles; Vivian Ho, chair in health economics at Rice University's James A. Baker III Institute; and Jenny Gold, reporter with Kaiser Health News.
Hemlin is national organizing and programs manager for Young Invincibles, a national organization that focuses on issues pertaining to people ages 18 to 34. She coordinates events with state partners on issues of higher education, health care and youth employment.
Ho is the James A. Baker III Institute Chair in Health Economics, a professor in the department of economics at Rice University and a professor in the department of medicine at Baylor College of Medicine. Her research examines the effects of economic incentives and regulation on the quality and cost of health care.
Gold covers the health care industry, overhaul and disparities for radio and print. Her stories for KHN have aired on NPR and been printed in USA Today, the Washington Post, McClatchy and MSNBC.
This event will be held at the James A. Baker III Hall at Rice University. The event is free and open to the public and includes complimentary lunch courtesy of H-E-B. Public parking is available in the Central Campus Garage under McNair Hall (not included in registration). Campus map and directions can be found here.
Disclosure: though donors and corporate sponsors underwrite our events, they play no role in determining the content, panelists or line of questioning.