On The Road: A Symposium on Higher Education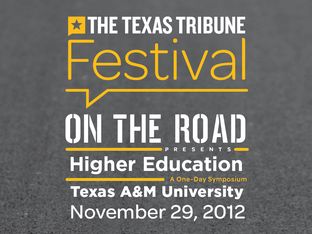 The Tribune is pleased to partner with Texas A&M University on a daylong symposium about the major issues confronting higher ed in Texas over the next five to 10 years. Specifically, we'll discuss what's next on the curricular front, redefining the college/university experience, funding and Texas' changing demographics.
The symposium will be held at the Annenberg Presidential Conference Center (http://apcc.tamu.edu/directions.html), adjacent to the George Bush Presidential Library and Museum.
SCHEDULE:
9 A.M.: Complimentary Breakfast
9:30 A.M.: Welcome
9:45 A.M.: "Higher Education and the Legislature: A Preview of the 83rd Session" – state Sen. KEL SELIGER, R-Amarillo, chairman of the Senate Higher Education Committee
11 A.M.: "Pathways to Student Success" – DENISE M. TRAUTH, president of Texas State University; LAWRENCE SCHOVANEC, interim president of Texas Tech University; and SHIRLEY A. REED, president of South Texas College
12 PM: Complimentary Lunch
12:30 PM: A Conversation – Evan Smith and JOHN SHARP, chancellor of the Texas A&M University System, and R. BOWEN LOFTIN, president of Texas A&M University
1:45 PM: "Price vs. Cost: The Value of a College Education" – DAVID WATTS, president of The University of Texas of the Permian Basin; RAYMUND PAREDES, commissioner of the Texas Higher Education Coordinating Board; RICHARD CARPENTER, chancellor of the Lone Star College System; and DAN JONES, president and CEO of Texas A&M University-Commerce
3 PM: "Innovations in Online Learning" – STEVE KLINGLER, vice president of student experience at Western Governors University; PHIL SCHUBERT, president of Abilene Christian University; STEVEN MINTZ, executive director of the Institute for Transformational Learning at the University of Texas at Austin; and RENEE PATTON, U.S. Public Sector Director of Education for Cisco Systems
This program, free and open to the public, will take place at the Annenberg Presidential Conference Center at Texas A&M University.
Disclosure: though donors and corporate sponsors underwrite our events, they play no role in determining the content, panelists or line of questioning.