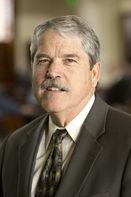 Industry

Insurance
Education

B.B.A., Baylor University
Spouse

Kerri
Committees

Education (Chair)
Business & Commerce
Intergovernmental Relations
Select Committee on State Real Property Data Collection, Reporting,
Financial Statements
Sources of Income
Taylor is the owner and president of the Truman Taylor Insurance Agency in Friendswood. He is also chairman of the board of Texan Bank in Sugar Land.

Taylor lists ownership in the Truman Taylor Insurance Agency Inc. and discloses shares in privately held Family Bancorp, FC Holdings Inc. and Friendswood Capital Corp.
Property
Residence in Friendswood valued at $313,310
Analysis
Critics accused Taylor of double-dipping into his state travel and campaign accounts. Taylor said he repaid his campaign account (such repayments are not required to be reported). The Travis County district attorney's office cleared him of wrongdoing.

Taylor for years sat on the House Insurance Committee, which has oversight over Texas windstorm insurance policies. As of 2011 Taylor had made commissions of at least $300,000 off such policies, according to a KHOU-TV report. In 2009 he sponsored HB 4409, which gives the Texas Windstorm Insurance Association unique powers to raise rates on consumers. Critics say Taylor should recuse himself from windstorm legislation. Taylor has said all legislators know he's an insurance agent who sells windstorm policies and says he has no conflict of interest.

Taylor has received large campaign contributions from his industry, including the PACs operated by Farmers, State Farm and Allstate.