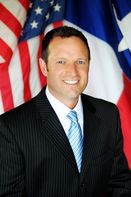 Industry

Insurance, Business Executive
Education

B.A. from Stephen F. Austin State University
Spouse

Carrie
Committees

Environmental Regulation
Local & Consent Calendars
Economic & Small Business Development
Economic & Small Business Development Subcommittee on Small Business (Chair)
Financial Statements
Sources of Income
Isaac is a senior business development manager for Clean Energy Fuels Corp., which markets natural gas to trucking companies.

He is also an insurance agent for the Life Insurance Company of the Southwest.

He holds stock in Home Security Capital Corp.
Property
Residential property in Austin valued at $225,400

Residential property in Bullard valued at $110,000
Analysis
Issac, who works for Clean Energy Fuels Corporation, sponsored a bill in 2013 that would have abolished "the Alternative Fuels Research and Education Division program administered by the Railroad Commission of Texas." The bill didn't make it out of committee.