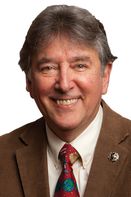 Industry

Lawyer
Education

B.A., Queens College-City University of New York; M.S.S.W., University of Texas at Austin; J.D. University of Texas at Austin
Committees

Human Services
Public Health (Vice-Chair)
Financial Statements
Tax Returns
Sources of Income
He is a lawyer in general practice at Scanlan, Buckle and Young.

He owns stock in pharmaceutical and energy companies. He also reports owning State of Israel bonds. In 2009, he reported thousands of dollars in income from Frontier Communications Group, General Electric, Fording Canadian Coal Trust, PEPCO, Teva Pharmaceuticals, Westamerica Bancorp, Provident Energy Trust, 21st Century Holding and American Funds.

He has loaned money to Alori Properties, and he earns interest on that loan.
Property
Residential property in Austin valued at $287,085

Lot in Wimberley valued at $11,500

One-acre property in Hays County valued at $19,340