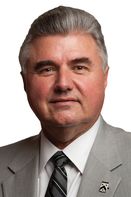 Industry

Consultant
Education

A.A., Sam Houston State University; B.S., Sam Houston State University; M.S., Sam Houston State University
Spouse

Penny
Committees

Business & Industry
Transportation
Emerging Issues In Texas Law Enforcement, Select (Chair)
Financial Statements
Sources of Income
Fletcher does a variety of corrections-related and security-related work. He is a consultant with LaSalle Management Company (based in Louisiana) and Southwest Correctional (the Texas division, based in Dripping Springs). This is a private prison company.

He also does consulting work for a Tomball-based company called Security on Site, which is owned by his wife, Penelope Suzanne Fletcher. Security on Site specializes in security for hospitals, courthouses and car dealerships.

He spent more than two decades with the Houston Police Department, before retiring. He began there as a patrol officer and eventually became a supervisor in the Office of the Inspector General.
Property
Residential property in Tomball valued at $311,169

He also lists a 6-acre lot in Montgomery County.
Analysis
A 2009 Texas Monthly story reported that Resource Protection Managment, a security company owned by Fletcher, was tied up in a stock fraud investigation. Fletcher was not a focus of the investigation, but an associate, Nick Jarvis, was arrested in 2010 and sentenced to five years in prison. Fletcher owed hundreds of thousands of dollars to various creditors and Resource Protection Management investors at the time of the Jarvis investigation. In a 2012 interview, Fletcher said that the company had become a "non-entity," with Security on Site taking on some of the old RPM clients. They are making payments on the old RPM debt.

In September 2012, the Ethics Commission fined Fletcher $6,500 for violations including failure to disclose the full occupations of some political contributors. The commission also stated that by the date of its report, Fletcher failed to respond to questions that he had received in May. Fletcher said that this was a misstatement and that "we had responded, with our attorney." As for the main charge, Fletcher said that he and a handful of other lawmakers had been targeted by political opponents looking for every mistake back to the day of their first election. "Sometimes you accept checks that you don't realize are corporate checks," he said. In addition, "some of those are mistakes we found and corrected and they still fine you for it."