Five questions for Election Day in Texas
By Tuesday's end, Donald Trump's impact on Texas elections will be clear, and Republicans may have fewer elected officials to show for it.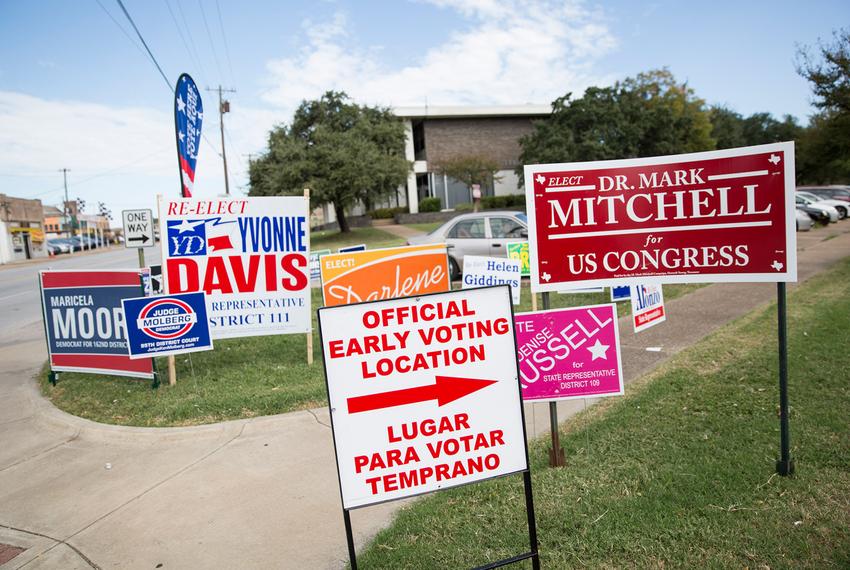 SAN ANTONIO — From a stage at a barbecue joint here Monday evening, Gov. Greg Abbott gestured toward the three lawmakers standing behind him and proclaimed them the "face of the current Republican Party in the great state of Texas" — and its future too.
Come Tuesday night, all three of those legislators — state Reps. Rick Galindo and John Lujan, as well as U.S. Rep. Will Hurd — could be without an immediate political future. Partly to blame: their party's presidential nominee, whose unorthodox candidacy has shaken up the political landscape across the country, even in ruby-red Texas.
The scene, which unfolded at a get-out-the-vote rally for Hurd, spoke to one of the overarching questions heading into Election Day in Texas: What impact will Donald Trump have on this traditionally Republican state? Texas' long-beleaguered Democrats have watched with excitement — and determination — as polls have forecasted a tighter-than-normal race for the White House in Texas.
Now they will find out if the Trump effect is just that — or a massive political mirage. Here are five questions for Election Day 2016 in Texas:
By how much will Donald Trump outpoll Hillary Clinton?
The biggest headline this election cycle in traditionally Republican Texas has been the closer-than-usual presidential contest, with many polls showing Trump beating Clinton by only single digits. A spate of recent surveys, however, has shown Trump trending toward a more traditional position for a GOP nominee in the Lone Star State, which John McCain carried by 12 points in 2008 and Mitt Romney by 16 in 2012.
Whatever the margin is Tuesday, Democrats are anticipating the closest Texas outcome in a long time, possibly since Bob Dole won the state by only five points in 1996. Garry Mauro, Clinton's Texas chairman, touted Monday that she is "within five points" in Texas, though it was not immediately clear to which polling he was referring.
Clinton's running mate, U.S. Sen. Tim Kaine, summed up Democrats' Texas outlook while visiting North Carolina on Monday.
"It's still probably a little bit of a bridge too far this cycle, but I mean, I think you're going to see movement in the right way," Kaine said, according to an NBC reporter.
Republicans, meanwhile, have long dismissed the idea Clinton has a shot at Texas and, in the home stretch, maintained that Trump's margin ultimately will not be much of an outlier compared to recent history. "I think we're going to be in double digits in Texas," Texas GOP Chairman Tom Mechler told reporters Friday.
Will Trump doom Will Hurd in Texas' 23rd Congressional District?
In Texas' only competitive congressional race, U.S. Rep. Will Hurd, R-San Antonio, is fighting for re-election in a rematch with Pete Gallego, a Democrat from Alpine. In the predominantly Hispanic 23rd Congressional District, Trump has not made it easy on Hurd, who never endorsed the GOP nominee but only recently ruled out voting for him.
The final days of the contest have seen both sides escalating long-simmering allegations of unethical behavior, in addition to the usual wrangling over Trump. Texas Democrats, long confident presidential year turnout would boost Gallego to victory, believe Hurd did too little too late to fully denounce Trump — and voters will punish him for it Tuesday.
At the get-out-the-vote rally, Hurd fit in one last barb at Gallego, branding him a puppet for national Democrats who have poured millions of dollars into what has become one of the most expensive congressional races ever in Texas.
"Nancy Pelosi and her liberal friends are trying to buy this seat," Hurd said, invoking the House minority leader who has served as a GOP boogeyman in the race. "My opponent is actually just kind of a side thought, to be frank."
How many seats will Democrats pick up in the Texas House?
Democrats in the Texas House are likely to pad their minority Tuesday, though like with the presidential margin, the question is by how much. Fewer than a dozen House Republicans are in competitive races, with three to six of their seats expected to flip to Democratic control.
However many seats Democrats pick up, it will not make much of a difference in the 150-member House, where Republicans currently outnumber Democrats nearly 2-to-1. Still, when the dust settles Tuesday, the extent of Democrats' gains in the House will offer one gauge of how difficult Trump made life for down-ballot Republicans in Texas.
"I actually believe one way or the other, it helps us up and down the ballot," Democratic House candidate Mary Ann Perez said Monday, calling the White House race a boon to her chances of taking back House District 144. She is challenging state Rep. Gilbert Peña of Pasadena, one of the most endangered state lawmakers on the ballot Tuesday.
One little-noticed scenario going into Tuesday: Of the six Hispanic Republicans in the lower chamber, as many as four could lose their seats — two of whom, Galindo and Lujan, were onstage with Abbott in San Antonio. The two others are Peña and Rep. J.M. Lozano of Kingsville.
Will Latinos turn out against Trump?
Part of Democrats' hopes for Tuesday rely on something happening that usually doesn't in Texas politics: Hispanic voters turning out in droves. While Clinton's support among Latinos is deep, Democrats are most prominently banking on Hispanic voters showing up to cast a ballot against Trump and his hard-line immigration positions.
While the extent to which Latinos turned out in this election may not be immediately known, early voting trends offered some hints. Analysis done by Republican consultant Derek Ryan found that 19.7 percent of early voters this cycle had a Hispanic surname, up from 15.5 percent in 2012.
"I think statewide it's probably not going to be a factor," Ryan said Monday. "I think we're going to see some statewide races that are closer than they have been in recent history, but I do think it could cost us some local and legislative races."
Among those contests: Lujan's and Galindo's bids for re-election in the San Antonio area. At the Monday rally, both acknowledged the volatility of their districts as they argued they were the right candidate to keep the seats in GOP hands.
"This is a seat ... that flip flops every two years, the past few cycles," Galindo said, recalling how he began block walking in late April to try to get a head start on a tough campaign. "This is something that we believe we really have a hold on. We've been working hard, and I believe I represent everyone."
Does Trump change the map in Texas?
In the 2012 presidential election, Barack Obama won 26 of Texas' 254 counties. Can Clinton outdo him?
While Trump's margin of victory is no doubt worth watching, what happens at the county level could matter more for Democrats' long-term hopes in the Lone Star State. The biggest county to watch is Harris County, Texas' most populous and the site of a razor-thin victory by Obama in 2012.
There is also Fort Bend County, a hugely diverse and fast-growing area southwest of Harris County. It went for Romney by seven points in 2012, a relatively close margin by Texas standards that political observers expect to tighten this time around, potentially moving the county toward true battleground status.
"It'll be a good test of the extent of the collateral damage that Trump is inflicting on the Republican Party within the Asian-American and Latino communities," said Mark Jones, a political science professor at Rice University.
One more county to keep an eye on: Bexar County, which includes San Antonio. It is considered Democratic-leaning territory, with the GOP still being able to win some countywide races there under the right conditions. If Trump underperforms, Bexar County could emerge from Tuesday its most solid shade of blue yet.
Did you have any trouble voting?

Text us your experience by joining the ElectionLand project. We'll check in to find out how long it took you to vote and whether you had or saw any problems. Sign up now by texting TEXAS VOTES to 69866.
Texas Election 2016 - Curated tweets by TexasTribune
Texans need truth. Help us report it.
Independent Texas reporting needs your support. The Texas Tribune delivers fact-based journalism for Texans, by Texans — and our community of members, the readers who donate, make our work possible. Help us bring you and millions of others in-depth news and information. Will you support our nonprofit newsroom with a donation of any amount?
Yes, I'll donate today
---
Information about the authors
Explore related story topics