Inside Intelligence: The Other Texan
His supporters wouldn't necessarily agree, judging from our phone calls and emails, but our insiders think U.S. Rep. Ron Paul — the other Texan in the presidential race — is getting all the attention he deserves. More than a third, however, don't agree with that.
Does he have a shot at the Republican nomination? Nearly everybody — 94 percent — says no.
They also think that it wouldn't take much support for Paul (or anyone else) to tip the race. A five percent showing in the polls would be enough to make a losing candidate a spoiler who could change the outcome, according to 43 percent of the insiders. Others think it would take more, but if you combine those who put the mark at 5 percent with those who put it at 10 percent, then you've got seven of ten insiders saying you've got a spoiler.
Our last question comes up a lot in political races with large numbers of candidates: How do you tell the real prospects from the runts? It's all about the money, according to 60 percent of the insiders, followed by ideas/issues, 24 percent, charisma, 11 percent, and big crowds, 5 percent.
As always, we collected the verbatim comments on all of our questions and attached them, and we've got a sampling below.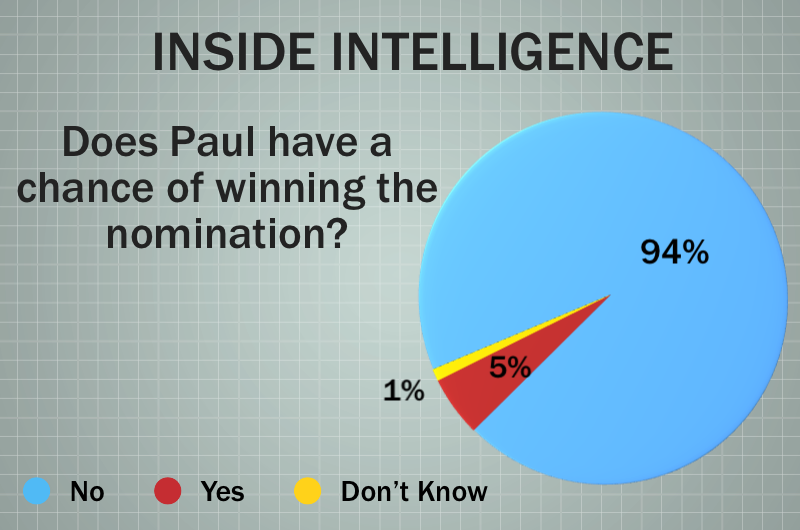 Is Ron Paul getting the attention he deserves as a presidential candidate?
• "The media has its thumb on the scale. Ron Paul is old news to them and doesn't fit the preferred narrative this year, which is about Obama, the economy, and... wait for it... Perry."
• "If politics is about economics he certainly is not. If politics is about scapegoating and fear mongering then why bother with Dr Paul. He is the closest thing they have for radical economic revisionism but that is not what that voter base thinks it's doing."
• "Actually, far more than he deserves."
• "Ron Paul bundled millions and got now where. The reason Ron Paul is a perennial candidate is because voters have a way of seeing through to the real Ron Paul. It's not money. It's Ron Paul."
• "The attention Ron Paul gets far exceeds his vote share."
• "Ron Paul's rhetoric used to attract cameras and reporters like flies on a turd pie. Now he sounds like everyone else in the race. He's no longer the cool kid in the playground."
• "Seriously? He raises millions, wins polls, and nobody mentions him in the press except as a punch line."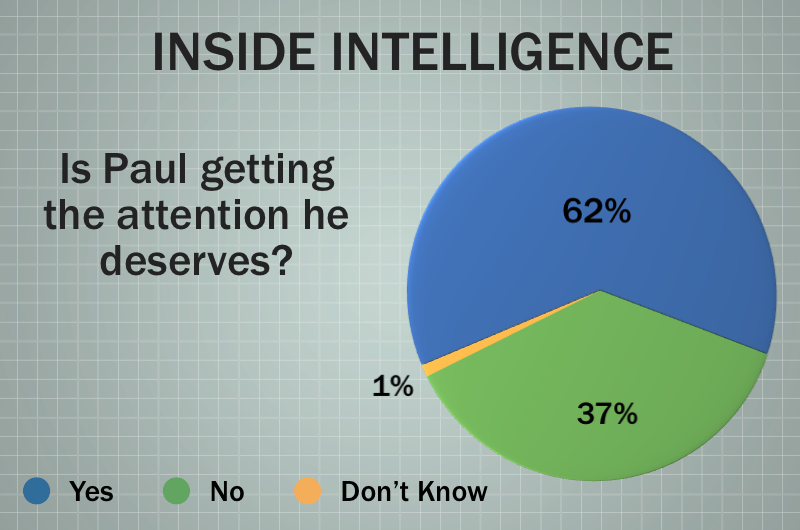 Does Ron Paul have a chance of winning the Republican nomination?
• "I never thought a first term Senator with two years of congressional experience and no major legislation could be president. I won't be fooled again."
• "Ron Paul will impact this race. His ideas already are. His following is more committed and loyal than any other candidate in the field. There just aren't enough of them for him to win."
• "There is absolutely no chance at all of Ron Paul winning a single Republican primary, let alone the nomination."
• "The Don Quixote of the GOP."
• "I do not buy conspiracies, but the media is really ignoring him and his supporters are all kind of...eccentric. Until that changes, he doesn't have a shot."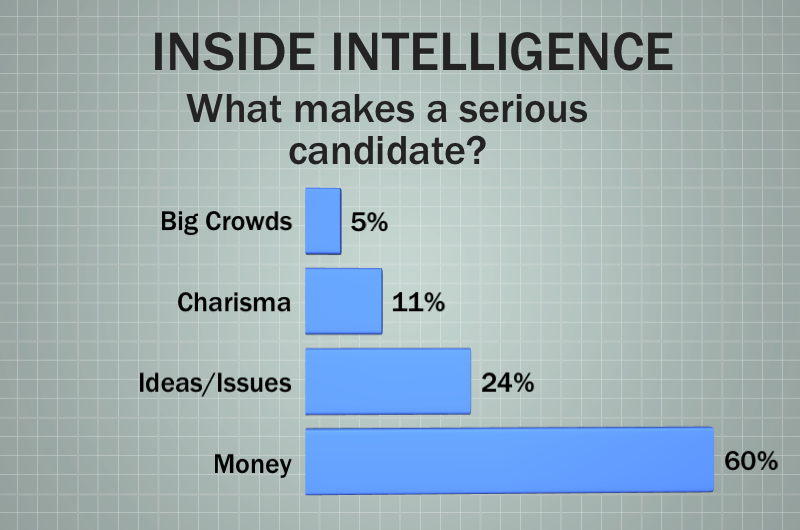 What distinguishes a "serious" candidate from everyone else?
• "I hate this question."
• "Cold, hard cash rules our politics... for the worse."
• "The media and pundits"
• "Jesse Jackson didn't have much money, and he couldn't win the nomination, but he was a serious candidate. If you have actual or potential support in the race, you are a serious candidate."
• "Any or all of the above, but only if it translates into standing in the polls. So Paul is a serious (though not top tier) candidate and Huntsman is not."
• "Ideas and issues went out with the hoola hoop."
• "Electability."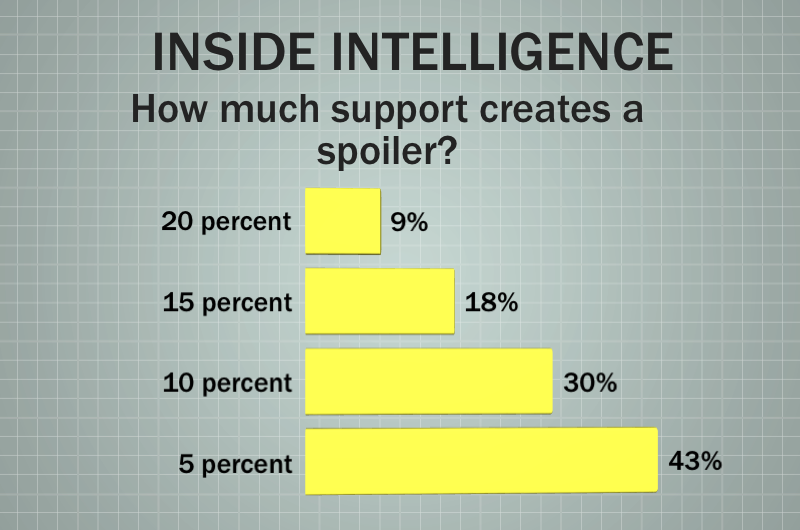 Suppose Paul doesn't win the nomination. How much support does it take to make a losing candidate a spoiler who can change the outcome of a race?
• "Just look at Perot's numbers."
• "If Paul runs as an independent the Republicans are doomed."
• "With a large field, one candidate can siphon enough support from another with as little as 5% of the vote."
• "Were Paul to run as the Libertarian Party candidate he would have a serious negative impact on the chances of the Republican nominee in several battleground states. In a close race this could very well represent the difference between a second term for Pres. Obama and a Perry or Romney presidency."