Mapping Where Federal Hospital Dollars Go in Texas
State health officials hope they've reached a breakthrough in their effort to achieve two seemingly competing goals: expanding Medicaid managed care, and keeping $1 billion in federal health care dollars flowing into Texas hospitals every year.
Lawmakers want to expand managed care to hospitals — which are currently exempt — in order to save the state money, a priority when they're facing a massive budget shortfall. But the move would have the unintended effect of forcing hospitals to forgo an important source of federal funding, so-called "Upper Payment Limit" dollars they don't qualify for if they're in managed care.
An earlier state Health and Human Services Commission proposal that would've funneled the federal dollars to hospitals through managed care organizations drew strong criticism.
Now, HHSC officials say they've negotiated with the federal Centers for Medicare & Medicaid Services (CMS) and come to a possible agreement: a federal waiver that would allow hospitals to get the money despite their participation in managed care — at least until the state transitions into the pay-for-performance system outlined in Lt. Gov. David Dewhurst's proposed legislation.
The plan is "not dramatically different" than how the UPL dollars are currently distributed, said HHSC Spokeswoman Stephanie Goodman. "We've been discussing with CMS how we can do this," she said. "They came back and suggested a performance waiver, which meets both of our goals, to get savings from managed care, and preserve UPL."
The hospitals are reviewing this proposal — with skepticism. Though CMS appears to have pitched this proposal, the waiver would still have to go through the approval process, they say, and isn't a shoo-in. But Goodman said HHSC is optimistic.
"Because they understand the financial pressures all states are under, we think probably they'd be able to fast-track it," she said.
Meanwhile, here's a look at which state legislative districts have the most to lose if UPL dollars can't be preserved. The darker the color of the district, the more federal UPL dollars that have flowed to hospitals there since 2007. Not surprisingly, the districts that have brought in the most UPL dollars in that time — House districts that have reaped over $200 million, and Senate districts that have brought in more than $300 million — are home to some of Texas' biggest urban hospital systems — like Memorial Hermann in Houston. There are also some unexpected ones, like Odessa Regional Hospital and Brazosport Regional Health System.
First, the House map: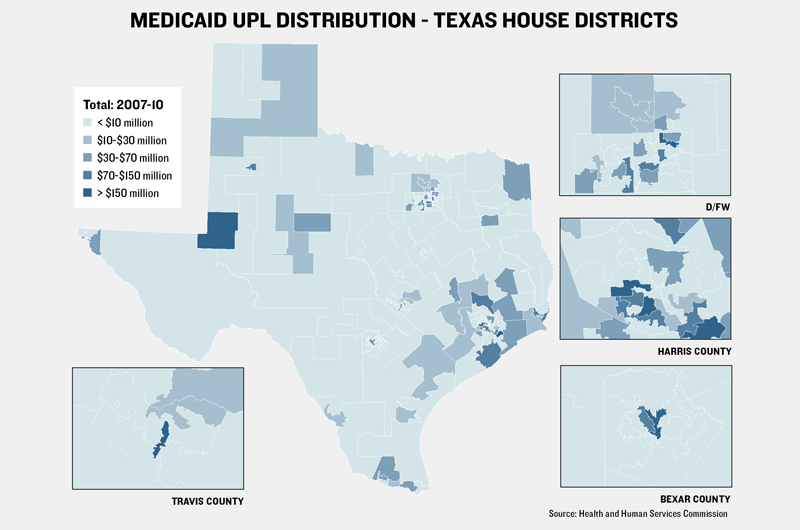 And the Senate: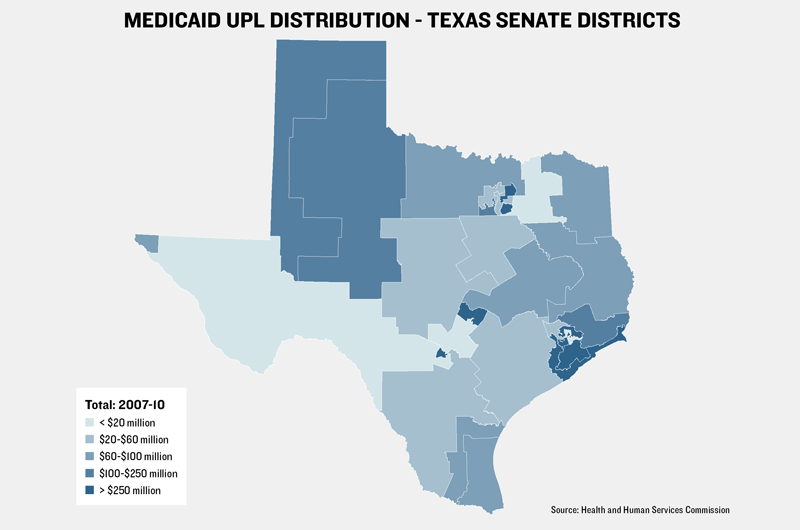 Texas Tribune donors or members may be quoted or mentioned in our stories, or may be the subject of them. For a complete list of contributors, click here.