2012 Texas Tribune Festival
-
6 p.m. - 5 p.m.
University of Texas at Austin
Various venues on campus, Austin, Texas 78705 (map)
We're proud to announce the second annual Texas Tribune Festival, taking place Sept. 21-23, 2012, in Austin.
The festival will feature a full weekend of debate, discussion and dialogue, featuring some of the biggest names in the world of politics and public policy. We've added two new tracks of programming, a member-only reception on Friday night and an informal reception on Saturday. You'll be able to grab a bite from some of Austin's premier food truck vendors and will have unlimited opportunities to network with your fellow attendees
A general admission pass gives you access to a weekend of interactive events, lively panel conversations and absorbing lectures. Follow any one of six distinct programming areas, or mix and match — it's up to you.
programming and registration information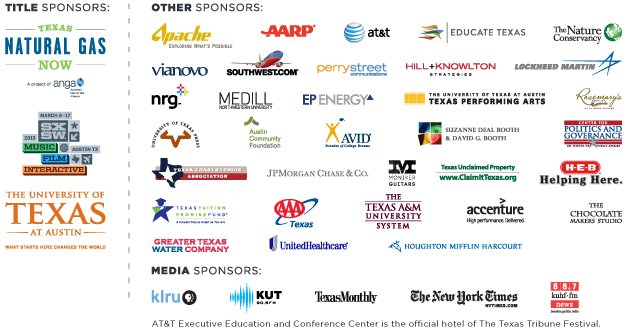 Disclosure: though donors and corporate sponsors underwrite our events, they play no role in determining the content, panelists or line of questioning.